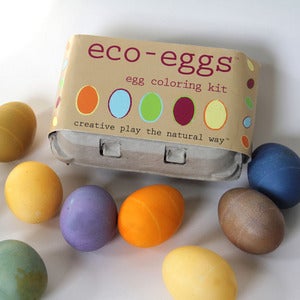 With spring coming early this year, thoughts of Easter have already popped into my head, and with the help of my favorite Milkshake Kids newsletter this morning, I have a sudden craving to decorate Easter eggs.
Check out these colorful, environmentally and kid-friendly egg decorating kits. And while you are at it, I also love this company's eco-friendly crayons, dough, glue, etc. They make beautiful products that are fun to use and safe for kids.
Eco-eggs! Made with natural and organic fruit, plant and vegetable extracts from annatto seed, curcumin, purple sweet potato and red cabbage. Includes color chart and instructions. Please visit fun stuff on our website for printable activity sheets, eco-eggs creature cutouts and how-to videos. 3 natural dyes (orange, blue and purple), a color chart for creating 6 colors.
Visit www.ecokidsusa.com.